I'm always interested to know which books end up as dog-eared copies on people's shelves, so I've taken to asking guest authors to write about a book they've loved. John Vorhaus, author of the Radar Hoverlander series, was happy to oblige. He chose a book by Tom Robbins, a bestselling author that, I have to admit, I've never gotten around to reading. After snickering my way through the John's hearty endorsement, I think I have to go ahead and give Even Cowgirls Get the Blues a try. Vorhaus's latest book,
The Texas Twist
, comes out this month.
________________________________________________________
Hi there, Worducopians. John Vorhaus here, author of the new "sunshine noir" humorous mystery novel, THE TEXAS TWIST. Because writers are, first and foremost, readers, I thought you'd be interested to know what book has most informed my experience as an author. It's Tom Robbins' EVEN COWGIRLS GET THE BLUES, and if this modern classic has escaped your attention, you should put it on your must-read list immediately. If it blows your mind half as much as it blew mine when I first read it, why then it will have blown my mind twice as much as yours.
COWGIRLS notionally tells the story of Sissy Hankshaw, a white-trash lovely born with the affliction – or gift – of thumbs so large that she can have but one destiny, and that is to hitchhike her way around the world and into our hearts. On that level, the book works terrifically well. It delivers adventure, danger, thrills, laughs, romance, oddball characters, and enough food for thought to sate even the most questing head. But that's not what the book is about, not really.
Because beneath the surface, COWGIRLS is subversive on two profound levels. The first is in the realm of social philosophy. Robbins, writing in the heart of the 1970s, takes the post-hippie ethos and turns it on its ear, delivering to us a way of looking at men and women, gay people and straights, native and invasive Americans, and the left and right ends of the political spectrum in a way that quickly moves past "Come on people now, smile on your brother," and gets to the essential realization that each of us is the same, purely as a function of the hopes, dreams, tears, and fears that we all share. In our post-modern world of acceptance as the political norm, this might not seem so groundbreaking. Back then, it was nothing less than a revelation.
The other revelation COWGIRLS has in store is the powerful capability of modern English. In the hands of a master like Robbins, each sentence is not just an explication or an explanation, it is an adventure, a revelation, a happy journey to the magical wonderland where poetry and prose collide. You want an example? How about this bone-chillingly beautiful sculpting of words? "The author is attempting to draw a shaky parallel between the manner in which the oyster, when beset by impurities or disease, coats the offending matter with its secretions, thereby producing a pearl, a parallel between the eliminatory ingenuity of the oyster and the manner in which Sissy Hankshaw, adorned with thumbs that many might consider morbid, coated the offending digits with glory, thereby perpetuating a vision that the author finds smooth and lustrous."
The eliminatory ingenuity of the oyster… Man, the first time I read that phrase I suddenly knew that there was much more to this business of writing than just communicating information or spewing the news. There's art. There's the potential for art in every word. And when that idea took root in my brain, I think I understood for the first time what it meant to be a writer. I knew what I wanted to achieve.
From that day to this, I've kept Tom Robbins in my heart and in my mind. I don't consciously emulate him – who can consciously emulate genius? – but I do strive to be a worthy acolyte. That's why when you read THE TEXAS TWIST, you'll get not only a ripping yarn about the crosses and double-crosses that inform my world of con artists and their kind, you'll also see evidence of my attempt to put color and spin in every sentence, to raise my prose to the level of art – if not to the level of Tom.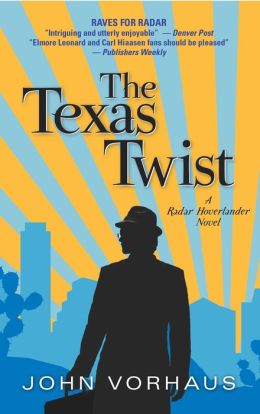 John Vorhaus's new novel, THE TEXAS TWIST, is available now.. All his other books (and they are not few) can be found via his Amazon author page. He tweets for no apparent reason @TrueFactBarFact, and secretly controls the world from www.johnvorhaus.com.