Always looking for ways to make reading more fun, my library started a fun idea last year that I didn't know about until yesterday. They have the fancy
RFID tags
so that in order to check books out you simply lay your stack of books flat on the machine, and it can read the tags on the whole pile. Playing off this new technology, the library put up a display of gift-wrapped books for patrons to check out.
This picture is from the Berkeley Public Library's Facebook page--they did it too!




On our library's display, they had gift tags with hints as to the contents, and instructions not to peek at the computer screen when checking out the books.
My husband, who works at the library, hand-picked two books to package together for me, checked them out, and brought them home to put under the tree. Don't worry, he also got me several gifts that I get to keep, but this was truly one of my favorite gifts of the day. He put the thought into what to pick out for me (knowing I like Irish literature, he picked out two books by Irish authors that I hadn't read), and he knows that I usually prefer to get my books from the library rather than owning them.
So, what books did he pick?
Paul Soye's The Boy in the Gap.
Cover blurb: Jack Sammon waits in jail on remand for a horrific crime that has scarred the community, wrestling with his memory and scribbling the details of his life in a school copy book.
Jack grows up on a small farm in a close - knit West of Ireland community, with his mother, older brother, and baby sister. He might have overcome the untimely death of his father had his mother's disastrous choice of a second partner not alienated the support of their neighbours, an act that sets Jack's life on a risky path. He is drawn to local eccentric Irene, who revels to him secrets about his family that will shake him to the core.
Full of pathos and humour, and evocative of Banville's The Book of Evidence and of Mc Gahern in its detailed portrayal of rural life, The Boy in the Gap is a beautifully wrought, haunting debut.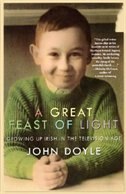 John Doyle's A Great Feast of Light.
The Globe and Mail's celebrated critic John Doyle was born in the small Irish town of Nenagh in 1957; his father purchased the family's first television set in 1962. By day, John was schooled by the Christian brothers in the valour of Irish rebel heroes and the saintliness of Catholic martyrs. But in the evenings, television conveyed more subversive messages: American westerns suggested to a bookish young John a model of manhood that had nothing to do with the rigid boundaries of small-town Ireland; and The Late Late Show, Ireland's homegrown talk-show-cum-variety-program, brought sex into Irish living rooms, eliciting howls of protest from priests and conservative politicians.
As the 1960s and 70s wore on, television introduced the dreams and the actions of the American civil rights movement to Ireland. When the Catholics of Ulster adopted the practices of marching and peaceful protest, television transmitted their clashes with the police, and later with the British army, directly into the Doyles'' home -- and broadcast them far beyond as well. It pointed John in the direction of a wider world, inspiring his hopes for the future just as it yanked Ireland out of its past.
Funny, insightful, and always engaging, this illuminating story of a boy and a country transformed by television is indeed a "great feast of light."
I can't wait to read these two books--and I've already finished the Fannie Flagg book for book club, as well as the following month's book...I do have another book to finish for review, but I may just sneak one of these in first.